XCENTRIC HR82 600-1200 CLASS EXCAVATOR MINING HYD ROCK RIPPER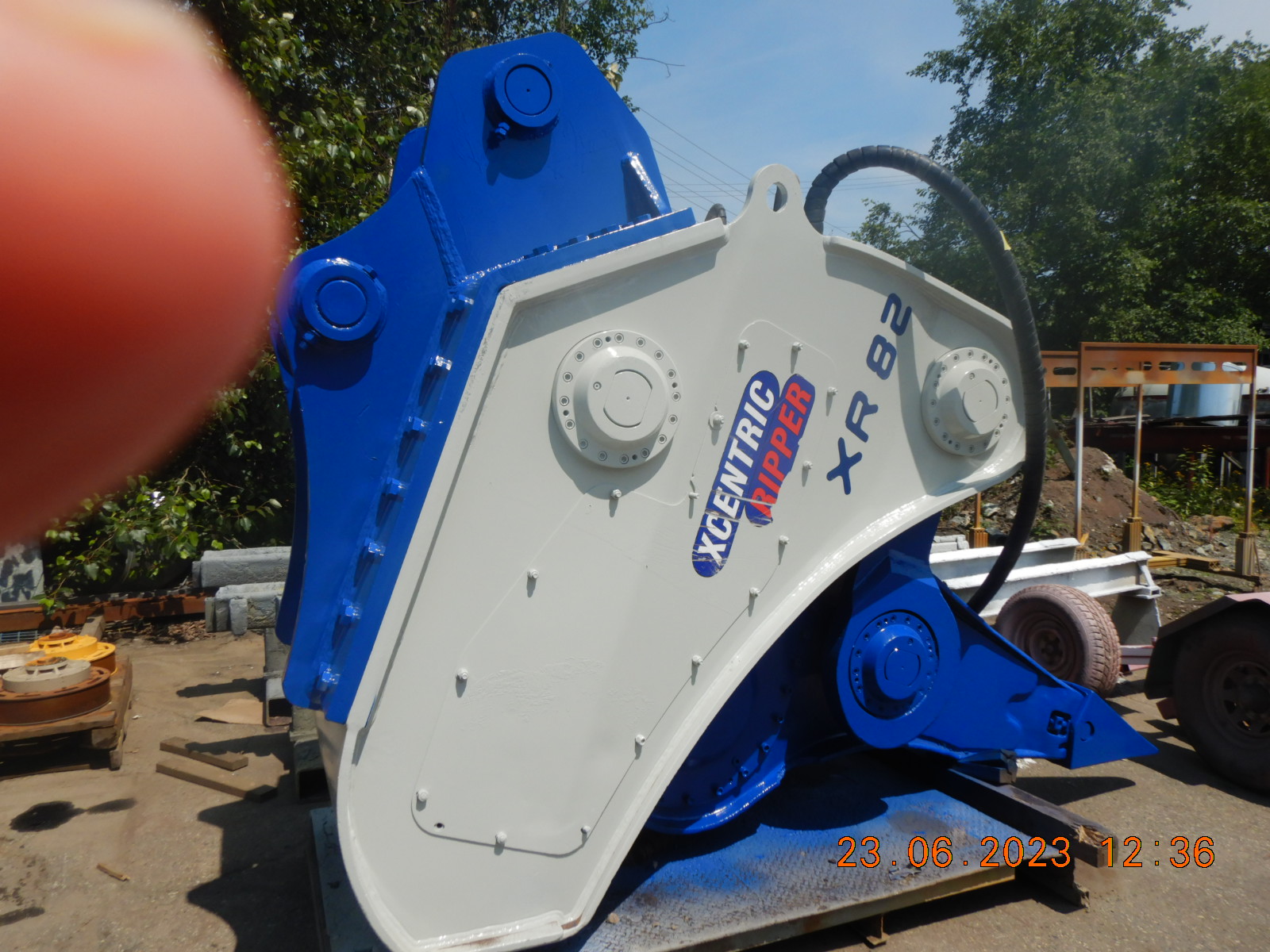 Equipment Description
LOW HOUR 2019  22000 LB MINING SERIES LITTLE USED RIPPER FOR ROCK - SHALE - SANDSTONE  WAS ON PC650 KOMATSU
PERFECT FOR GOLD MINERS FOR  THE TOUGHEST PERMAFROST ON SLOPES AND HILLS WHERE YOU CRAWLERS CANNOT ACCESS
BUILT JUNE - 2018 IN ITALY BY XCENTRIC RIPPER SERIAL # 18062501 - CLEAR TITLE READY TO WORK
SEE THE PDF FILE INSTRUCTION MANUALS FOR ALL DETAILS - COPY AND PASTE:
https://www.shearforce.ca/wp-content/uploads/XR-MINING-SERIES-Instruction-Manual.pdf
https://bossattachments.com.au/wp-content/uploads/2020/05/boss-au-xcentric-ripper-xr.pdf
https://xcentricripper.com/wp-content/uploads/2019/05/FICHA-RIPPER-XR82_ENG.pdf
http://www.dbflimited.com/Resim/Upload/miningseriesripperenglish1.pdf
The XR82 key features as per Xcentric:
• Suitable for 70t-90t Excavators the XR82 weighs in at 10,000kg (WILL WORK ON 600 OR 650 CLASS WITH SHORT STICK)
• 5 times higher production than conventional rock breakers
• A safe and easy alternative to drill and blast options
• New slim body design makes the XR Mining series perfect for trenching applications.
• Minimum noise levels
• Minimum maintenance
• No daily lubrication required
• Minimum wear parts consumption
• Long life components and materials
• Less fuel consumption per produced m3/ton
• Less emission per produced m3/ton
• Environmental protection (Bio Lubricants)
• Marine/underwater operation.
• Can be used on standard excavators.
• Increase operator comfort.
• HARDOX® & Strenx construction ensures long-lasting durability in extreme conditions.
• Designed and manufactured in Spain by Xcentric International, only the best materials are
used for excellent quality. Solid, durable and characterized by the now recognizable clean lines
designed to resist wear and high stresses in the toughest working conditions.
• Extreme compactness and low center of gravity improves balance and drastically reduces the
strain on the excavator arm, eliminating impact vibrations.
Introducing the Xcentric Ripper® hydraulic ripper. A revolution in high volume excavation and demolition.
After more than 10 years development in the design and manufacture of the worlds most productive, reliable, and technologically advanced hydraulic ripper, Xcentric International has taken the Xcentric Ripper range to a whole new level with the release of the all new Xcentric Ripper Mining Series.
The Xcentric Ripper® outperforms traditional hydraulic hammers in nearly every type of material, particularly in medium hardness rock with natural fracturing and layers. Using patented Impact Vibration Accumulation Technology, the attachment works with the natural rigidity of the rock, and the vibrations that are produced shake the material to deepen cracks for easier breakup. It is an exceptional tool for frozen ground excavation, demolition, rock excavation, slag recycling, dredging, trenching, underground mining, and even underwater applications.
XR mining series range
• Easy operation with low noise.
• Unbelievable power and versatility.
• Easy on your machine's pins and bushings.
• Low maintenance.
• Field replaceable ripper teeth.
• Patented impact vibration accumulation technology.
• A safe, easy, and environmentally friendly alternative to drilling and blasting options.
One of our customers in the pile and dredging industry was searching for an excavation tool that could be deployed for a three-month project which included the removal of more than 40,000 yards of basalt from a shoreline to make way for a new harbor and breakwater for incoming marine traffic.
The superintendent saw video of the new Xcentric Ripper Mining Series working online and decided to give the new more powerful version of the hydraulic ripper a chance to prove it belonged in their arsenal of excavation tools.
"We have the XR82 model working on one machine and a clam shell bucket for dredging on the other," he said. "We needed a tool that would work well under water and the XR82 has performed to our expectations so far. I see it proving valuable as an asset in our equipment fleet and working really well on some of our more specialty projects."
Mining Series Design Improvements
While the working technology is based on the standard series, the new Mining Series has been reinforced with a remodeled working platform, which delivers a much higher energy impact force to the work tool with a lower frequency. Larger and heavier eccentric gears are now machined from a single billet of steel and precisely designed to allow for equal weight distribution side-to-side and direct impact energy vertically.
The lower pivot arm and housing is reinforced to limit wear where the ripper typically encounters material, and the ripper arm or beak has been remodeled and reinforced with Hardox® steel. The XR Mining Series also has a narrower body profile, making it ideal for tunneling or operating in confined areas.
Designed to increase production, at lower operating costs and reduced noise levels, the all new XR Mining Series is a revolution for high volume rock excavation. Like the regular series that came before it, the Mining Series will be an invaluable tool for frozen ground excavation, rock excavation, quarrying, surface and underground mining, oil sands excavation, utility project installations, pipeline trenching, demolition, slag recycling, dredging, and even underwater applications.
Visit the Xcentric Ripper page:   
 https://www.shearforce.ca/equipment/xcentric-ripper/  to learn more and watch video of the Xcentric Ripper® Mining Series in action
WATCH THE VIDEOS COPY AND PASTE:
https://youtu.be/C3LLh0fSjk4
https://youtu.be/Z_dNJYRlpyg
https://youtu.be/G3lSGXuxv9s.
Condition : Used
Make : XCENTRIC
Mileage : 200 km
Date : 30-Dec-22
Price : $100,000.00
Year : 2019
Top