2019 Rockwheel MXR-D30LH Twin Drum 25-42 Class Excavator Mixer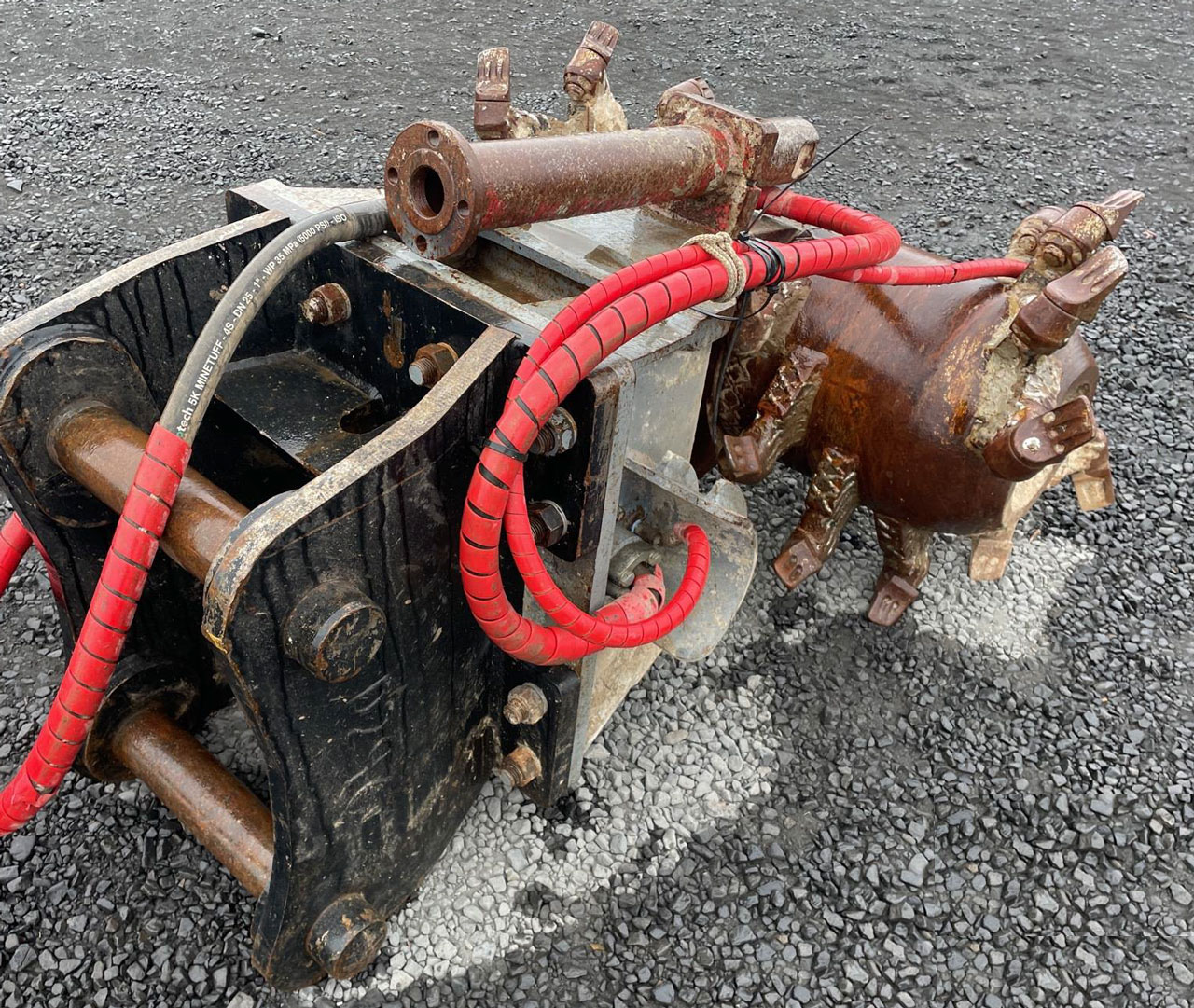 Equipment Description
Description
2019 Rockwheel MXR-D30LH Twin Drum 25-42 Class Excavator Mixer
ALSO PERFECT STUMP GRINDER WITH THIS CUTTER PICK TEETH SYSTEM AND 150 HYDRAULIC HP HEAD.
EASILY CONVERTED TO ROCK EXCAVATION - CONCRETE DEMOLITION GRINDER BY CHANGING THE DRUMS TO ROCK PICKS
See the Rockwheel Information page - copy and paste this link:
https://alpinecutter.com/en/products/soil-mixers/transverse-mixers.html
Soil remediation tools for treatment of Soil, Sludge, Dredged material, contaminated sites, and oil & gas drilling waste.
Excellent Condition 2019 Unit Ready to Work c/w Pin Grabber Top Plate Mounting System
New Cost $130,000.00 Take It For $50,000.00
MXR-D30LH Specifications:
Input Power hp (kW) 150 (110) Required Flow Rate GPM (l/min) 55-110 (208-412) Max Operating Pressure max. psi (bar) 5800 (400) Drum Speed RPM 75 - 140 Mixing Head Torque (max) ft.lb (Nm) 17,250 (23.4) Weight (without bracket) lbs (kg) 3600 (1635) Intended Carrier Size: 25-42 ton Mixing blades customized for job. Affects drum dimensions • Suitable for wet or dry mixing • Compatible with pressure feeder systems
•OPTIONS THAT ARE INCLUDED:
Injection Piping And Spraying Piping Extension Brackets Extreme Duty Blade Configuration Quick Hitch Pin Grabber Mounting Bracket
Optional:
• Long housing offers a deeper depth reach and reduced housing debris obstruction • Optional depth limiter & collision preventer
Note: Drums can be quickly changed to many drum configuaration see the Rockwheel Brochure (copy and paste)
https://alpinecutter.com/wp-content/uploads/2016/05/ROCKWHEEL-Americas-Workbook-EN_.pdf:
Alpine's Twin Drum-series of mixers can be utilized by carriers of any size. From compact minis to 75+ ton excavators, we've got you covered regardless of the scale of your task. Durable, robust gearboxes adapted from the mining industry allow these tools to be used in the most severe applications. We offer a variety of drum configurations to mix materials ranging from liquid sludges to firm compact soil. The torque on these units is unmatched and the various motor options within each model allow us to ideally match the soil mixing attachment to your application.
Any of Alpine's soil mixers can be equipped with injection piping for either dry or wet additives. If your application requires custom depth reach, we design and build custom extension brackets.
Specifications
Robust enough for the toughest applications, every MXR model has a range of motor configurations that allow adjustment for site specific conditions and pairing with the hydraulic output of the carrier excavator. In addition to optimizing drum speed, input power and torque, drums are designed for maximum blending efficiency and homogenization of the substrate. The dual, discontinuous spiral pattern of mixing blades generates simultaneous lateral flow and vertical shearing which results in a uniform mix and high surface area contact between additives and substrate. Custom drum design and build services available. Intended Carrier Size: 25-42 ton • Long housing offers a deeper depth reach and reduced housing debris obstruction • Optional depth limiter & collision preventer • Mixing blades customized for job. Affects drum dimensions • Suitable for wet or dry mixing • Compatible with pressure feeder systems
Condition : Used
Make : KW
Date : 30-Dec-22
Price : $50,000.00
Year : 2019
Top