BTI MCP900-IT DEMOLITION PULVERIIZER FOR 25 TO 35 TON EXCAVATORS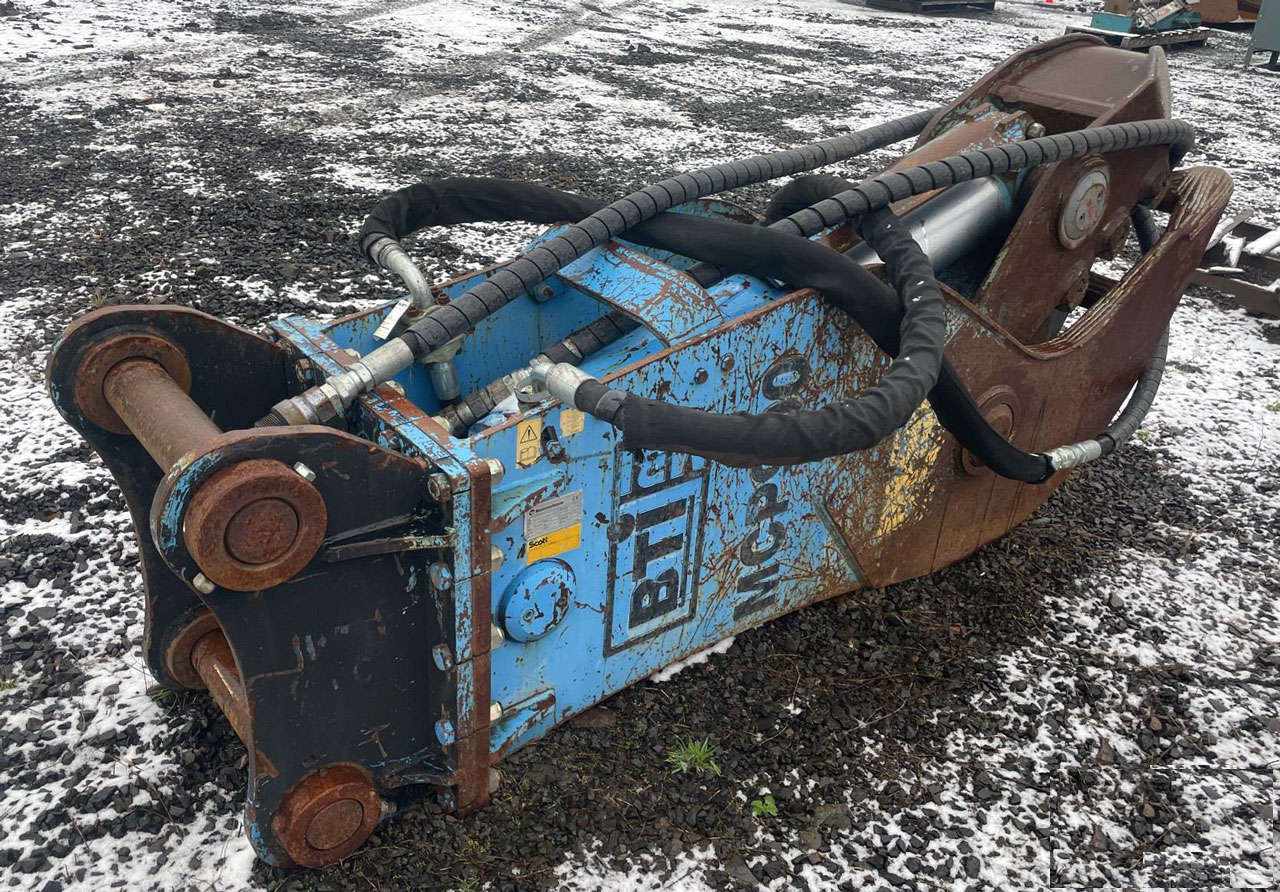 Equipment Description
DELIVERS MAXIMUM PRODUCTION IN PROCESSING OVERSIZE DEMOLITION MATERIALS

EXCELLENT CONDITION UNIT

NEW COST OVER $80,000.00 - TAKE THIS UNIT FOR $40,000.00 READY TO WORK TODAY.

Processing demolition debris is hard on equipment, so it's important to have attachments that stand up to the challenge. BTI Senior Regional Manager Tom Witt said the MCP900-IT pulverizer for large materials is the perfect tool to ensure maximum production and little downtime.

"The MCP900 reduces oversize material down to about 10-inch minus," said Witt. "It's ideal for handling debris from big demolition projects, such as taking down a building or removing a bridge."

BTI builds the MCP900, and other pulverizers in its MCP-IT line, with a tough and compact structure made of high-quality, wear-resistant materials. The mouth's profile is reinforced for high resistance to wear as well as maximum material production.

Strategically placed teeth provide fast fragmentation and separation of rebar from concrete. A speed valve alternates power and speed, depending on load. The opening of the fixed body is designed to make unloading materials easier, while maintaining the performance of the attachment.

"The MCP900-IT is designed for 25- to 35-ton excavators, so it's a fairly large unit that delivers more than 346,125 pounds of cylinder output force," said Northwest Regional Manager Dean Hubble. "Like all of our MCP models, it offers fast cycle times and ease of maintenance for maximum uptime and production."

EASY TEETH SWAP OUTS

Each MCP-IT model has a blade for cutting rebar that can be turned for greater usage.
Jaws were designed with long-lasting, easily replaceable teeth.
 Hubble noted that competitive pulverizers generally need to have teeth rebuilt every 40 to 50 hours, while BTI's typically last twice that long, and depending on material and operation, can go up to 250 hours.

"Most competitive models have fixed teeth that need to be re-built on the machines when they wear," said Hubble.
 "Ours can be swapped out by simply unbolting and removing the top plate and putting on a new plate with a set of teeth.
 The worn teeth can then be built back up in the weld shop, while the operator continues processing material."

    Specs

EXCEPTIONAL WEAR RESISTANCE

MCP-IT PULVERIZER
The pulverizer has a tough and compact structure made of high-quality wear-resistant materials at a hardness of HB400. The mouth's profile is reinforced and designed for high resistance to wear and maximum material production.
FASTER CYCLE TIMES


FEATURES
The MCP-IT Pulverizer's speed valve guarantees high performance. The valve alternates between power and speed, depending on the load. It offers faster cycle times and greater productivity.
EXCELLENT RELEASE OF DEMOLISHED MATERIAL

The openings of the fixed body make the unloading of demolished material easier while maintaining the performance and productivity of the attachment.
Breaker Technology MCP-IT Hydraulic Pulverizer

BLADES

On each model there are blades for rebar cutting. Blades can be turned for greater usage.
INTERCHANGEABLE PARTS

The MCP-IT pulverizer's jaw design increases the productivity of the attachment. Simple replacement of a tooth brings the tool back to original specification.
MOBILE JAW PLATE

This plate can be supplied with two top teeth to ensure greater production in the operation of secondary demolition.
Condition : Used
Make : BTI
Date : 30-Dec-22
Price : $40,000.00
Year :
Top